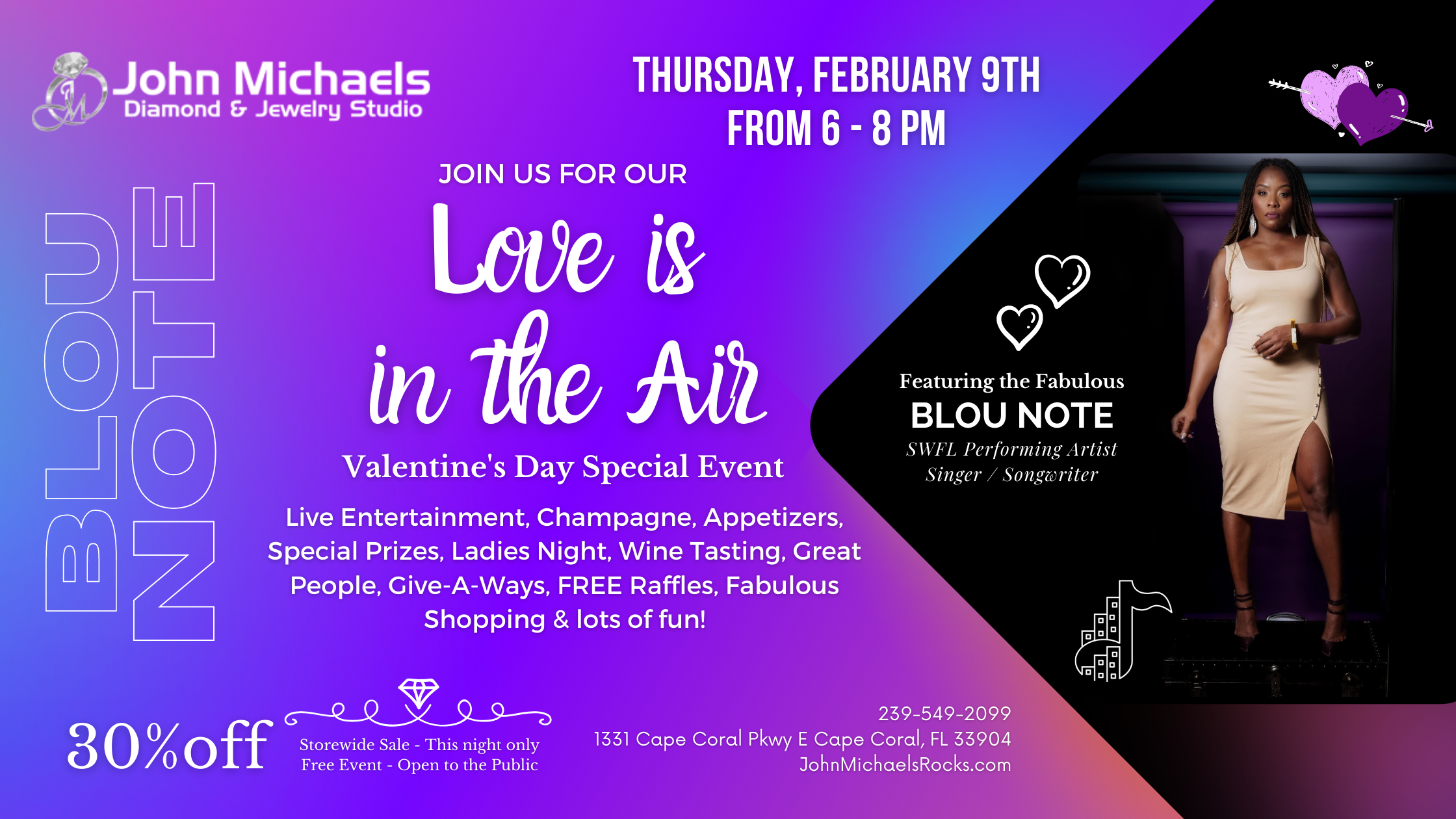 ​Join us for our February LOVE IS IN THE AIR Valentine's Day Special Event on Thursday, February 9th from 6 to 8 pm featuring the Fabulous Blou Note singing LIVE for you!
Melinda BLou Note is an amazing SWFL Performing Artist, Singer / Songwriter, Poet, Motivational Speaker, Model who is passionate about her craft and uses her music to be an inspiration in the community helping put SWFL on the map for raw, authentic, natural talent and beautiful music! Stop in and see her perform at John Michael's and feel the LOVE in the air!
We will have a 30% off storewide sale – this night only so drop in and enjoy – Live Entertainment, Champagne, Appetizers, Special Prizes, Lady's Night, Wine Tasting, Great People, Give-A-Ways, FREE Raffles, Fabulous Shopping & lots of fun!
This event is free and open to the public. Please RSVP now.
Melinda "Blou Note" Daniel is a Performing Artist who seemingly exploded onto the SWFL music scene in December of 2020. A self-proclaimed Renaissance Woman, Blou Note has since proven to hold an array of talents. On her list of credits are the following: Singer, Songwriter, Writer, Editor, Orator, Model, Poet, Lyricist, Mentor, Motivational Speaker, Producer, Philanthropist & most notably, QUEEN! Her motto, "Life, Chile! I Get It!", can best describe her approach to not only her art but the community at large. Having gained quite the reputation for being an inspiration to those following her overall movement, Blou Note has earned the respect of not only her supporters but her family and peers as well. Known for her raw & real mindset regarding life, love & relationships, Blou Note has been affectionately praised for her ability to maintain both vocal and a motivational delivery genuinely rooted in love. She is available for Professional & Personal Events, Weddings, Parties, Anniversaries, Funerals, Grand Openings, Public Speaking Engagements
You can reach Melinda Blou Note Daniel at 941-681-0087, BlouNote1@Gmail.com or visit her website at: BlouNote.com.
John Michael's Diamond and Jewelry Studio is proud to support the SWFL community in various ways. We regularly strive to empower and support local small businesses, non-profit organizations and people in need. We are grateful for the many years the community has supported our small business, therefore paying it forward is our way of saying Thank You for your loyalty and preference, we appreciate you! 
This event is free and open to the public. Please click here to RSVP now.  
239-549-2099
1331 Cape Coral Pkwy E,
Cape Coral, FL 33904
Since 1986 John Michaels Diamond and Jewelry Studio has paired beautiful jewelry with beautiful people. Family owned and operated John Michaels Diamond and Jewelry Studio prides itself on professional but personal and friendly service.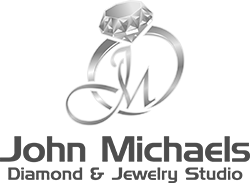 239-549-2099
1331 Cape Coral Pkwy E,
Cape Coral, FL 33904
info@johnmichaelsrocks.com
JohnMichaelsRocks.com