John Michael's Diamond and Jewelry Studio is proud to give back to the community on a regular basis in a variety of ways. We recently sponsored the Welcome to the Party – Dance Party of SWFL on July 22nd at the Alliance for the Arts. Happiness comes from who we are and what we do with the time we are gifted in life, being a part of the community and giving back is what makes us most happy! Supporting our youth is a great way to shape our future generations for the better and contribute to making not only our town but our country a better place for everyone.
As a business owner it's an honor to serve the community and this Jewelry store is the perfect way to meet new people, touch lives, make people happy and to obviously make money. But my passion isn't only the money or the bottom line because my true passion is the people, their stories and the opportunity to participate in their individual stories. Sometimes it's providing the perfect jewelry piece to celebrate a life event but sometimes it's sponsoring a local event so that new memories can be made and our young people can explore their gifts and talents on a stage or on a dance floor. 
My goal is for you to remember that when you want top quality jewelry, we are here to serve you. But my passion is to become a part of your story and the many stories in the community. I want the legacy of John Michael's to be top quality product, great service and the love for our community and it's people. – Bob Lanzieri
John Michael's Diamond and Jewelry Studio is proud to support the SWFL community in various ways. We regularly strive to empower and support local small businesses, non-profit organizations and people in need. We are grateful for the many years the community has supported our small business, therefore paying it forward is our way of saying Thank You for your loyalty and preference, we appreciate you! 
Since 1986 John Michaels Diamond and Jewelry Studio has paired beautiful jewelry with beautiful people. Family owned and operated John Michaels Diamond and Jewelry Studio prides itself on professional but personal and friendly service.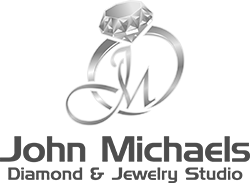 239-549-2099
1331 Cape Coral Pkwy E,
Cape Coral, FL 33904
info@johnmichaelsrocks.com
JohnMichaelsRocks.com